M.O.P.A Amplifier
M.O.P.A. Radiant Frequency Amplifier
We are now offering a 2.1 MHz to 3.8 MHz
M.O.P.A. (Master Oscillator Power Amplifier)
1930s/1950s M.O.P.A. Oscillator Replica. This Radiant Frequency unit is capable of driving a plasma tube with up to 118 Watts of power. When connected to the
GB-4000
Frequency Machine it is capable of outputting up to 8 Frequencies Simultaneously. Many people call this type of machine a Beam Ray replica or a Resonant Light machine. It is designed to be able to produce the same types of outputs and frequencies that the original 1930s equipment did.
New
maximum frequency range: When using the "RF Mode" 1 Hertz to 20,000,000 Hertz.
GB4000 and MOPA Frequency Machine Combo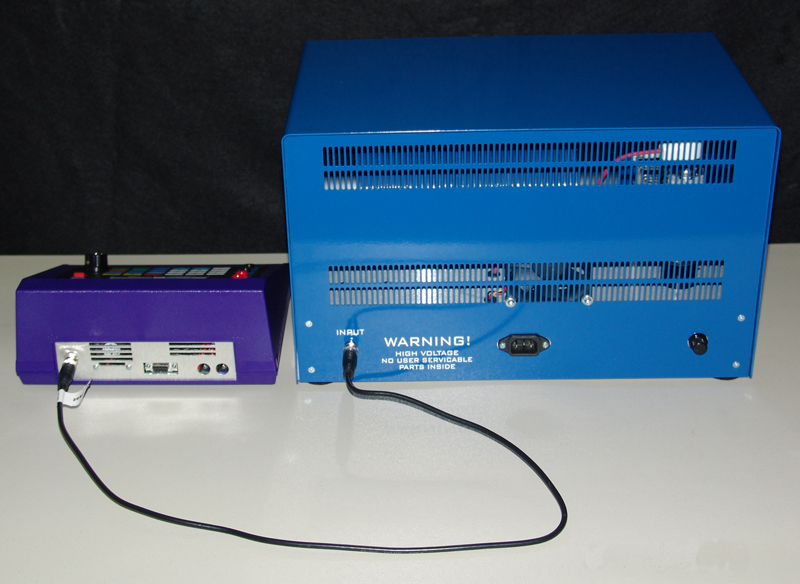 The
MOPA Combo Package
includes:
The GB4000 Frequency Generator. The most powerful, most capable frequency machine on the market.

The MOPA Amplifier/Oscillator

Connecting cables to connect your GB4000 to your MOPA Amplifier

Operating Instructions Manual

Instructional DVD

NOW The MOPA comes with a built-in frequency counter.
Radiant Frequency Machine Technology
Modern solid state circuitry uses low voltage, high current designs, to avoid the additional engineering and component costs involved in building the types of machines used in the 1930's and 1940's. The M.O.P.A amplifier/oscillator combines solid state design with analog vacuum tube technology to generate a high voltage, low current output to light the plasma tube. The ability to produce a high voltage, low current output to drive the plasma tube makes the MOPA, coupled with the GB4000 frequency generator unique in the market. And even with the advantages of vacuume tube design, it is still almost $1500.00 less than other comparable plasma tube machines.
The M.O.P.A. radiant frequency amplifier uses a plasma tube to broadcast the frequency, which is a non-contact method. Using a gas filled plasma tube allows for a maximum output power of approximately 118 watts. For the first time since the Ray Tube devices of the 1930s, the M.O.P.A. uses high grequencies directly output through the gas filled tube method. If you want to use the more powerful, versatile 1930s/1950s radiant method, then the M.O.P.A. amplifier with the GB4000 frequency generator is the instrument you will want to own.
MOPA Resonant Frequency Generator Specifications
118 watts Maximum power output at 175 milliamps.

Designed to drive a Plasma Tube or Ray Tube

Made by hand in the USA and tested for quality and durability

Two Year Warranty

Uses original Vacuum Tube amplification

Amplification Voltage: High Voltage (1128 volts)

Amplification Current: Low Current (30 to 250 milliamps)

Built in milliamp meter

Built in Frequency Counter

Output waveform: Sine Wave

Carrier Frequency: Variable.

Peak Power: When gated or modulated, approximately 470 watts on the high potential voltage rise on the leading edge of the square wave waveform.

Suggested range: 1 inch to 6 feet when using a gas tube. The M.O.P.A. has the same output as the 1930s/1950s equipment that was used within 6 inches of the target area.

Approximately 2.1 Mhz to 3.8 Mhz adjustable carrier frequency range

Carrier Frequency tuning: Variable Tuning Capacitor.

Designed to work with the GB4000 frequency generator through a BNC connection

Uses input from the GB4000 to generate frequency modulation up to 40,000 hertz square wave @ 100% AM modulation

New maximum frequency range: When using the "RF Mode" 1 Hertz to 20,000,000 Hertz.

When connected to the GB4000, it can transmit up to 8 frequencies simultaneously.

Gating or pulsing: 1 to 40,000 hertz, variable using the G4000.

Frequency Delivery: Gas filled tube (*Sold by another company. Limited warranty applies only if the recommended plasma tube is used.)

Instantaneous tube ignition with no SWR meter needed.

Compact Size - 10.5" Wide X 17" Long X 10" High.

Input power: Factory setting for 110/120 Volts AC or 220/240 volts AC.

Power usage: 150 watts. When connected to the GB4000, 175watts.

Weight: about 19 pounds.
RF vs EM Systems
All gas tube instruments that are EM (electro-magnetic) do not use RF (radio frequency) frequencies or an RF carrier frequency. They use coils to produce a high electromagnetic field to carry the frequencies to the target. Due to the fact that they use EM to deliver the frequencies they are limited to about 10,000 Hertz but a few go to 30,000 Hertz. Since they do not use an RF carrier frequency it is almost impossible to determine their power output. For this reason almost none of these manufacturers list the power output of their equipment. They generally are very good instruments except for their limited frequency range. Anyone who purchases the EM type of equipment should understand that they only output low audio frequencies and have no RF carrier frequency. All the original 1920s through the 1950s instruments used RF and had an average power output from about 40 to about 200 watts.
PLEASE NOTE: the gas filled tube including copper collars with wires, gas tube holder and new reflector are sold separately from another company for $335.00 plus shipping. Your distributor can give you the phone number for that company so you can order it when you order your M.O.P.A. This gas tube is
made of Pyrex and is a 2" inch round by 14" inch long Helium, Argon or Helium/Argon filled tube. It is guaranteed to handle the power output of the M.O.P.A. (*The M.O.P.A. comes with a warranty but if any other plasma tube is used there is no warranty)